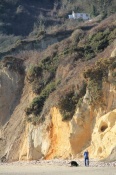 love your local landscape.
Monday 21st January 2013
There is nothing better for your wellbeing than getting out into the fresh air and enjoying the sights and sounds of the nature around you.
Find your inner explorer and get to know your local region
Many of us have had a walking holidays around the World but have not explored the area on our doorstep. If you are new to an area it is good to get your bearings to make you feel more settled.
Firstly get intimate with an OS Explorer map of your area. Highlight any routes you have walked then look at the routes that need to be explored.
Mark on the map places you wish to visit. Look out for free tourism guides if you are new to the area. There are probably interesting landmarks that you drive past think about incorporating them into a walk.
Plan a circular pub walk with friends and have the reward of a pint and pub meal at the end to keep you going through the muddy bits.
Reach the top of your world. Have a look at the contours on your map and discover the high points, arrange a walk that takes you there.