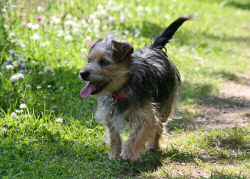 Dog friendly walking holidays on the Isle of Wight
Can I bring our dog?
If your favourite canine friend is of a modest size and is well behaved, he i welcome to join you on your walking holiday, with no compromise of your creature comforts or enjoyments.
Our meticulously researched coastal path walking trails ensure that you will have the minimum number of stiles for pleasurable walking, therefore keeping to a minimum frequent lifting of your dog over stiles!
On many of our lunchtime stops along the trail, you will find a country pub where you and your dog will be welcome. Our carefully researched country inns and guest houses make well-behaved dogs welcome and they will be able to join you in your bedroom in their own basket.
Dog friendly accommodation is only available on the coastal path. Please contact us before booking to confirm your requirements
We will send you a dog information sheet with your walking pack.

When you arrive there will be a small gift of a squeaky toy, poo bags and a dog treat for your dog.